As farming remains a dangerous career, experts urge the use of ROPS and seatbelts on tractors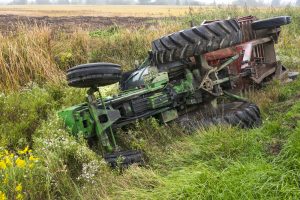 This week, The News Gazette released an investigative report on reducing deaths on farms by improving tractor safety. According to studies discussed in the story, farming has experienced significant increases in safety over the past 50 years, improving from 60 to 18 deaths per 100,000, but falls behind similarly dangerous jobs, where recent technology has allowed their mortality rates to reach even lower. In 2015, 11 Illinois residents died while working the land, and as the temperatures become warm, more people are expected to be farming–the time of the year where most of these deaths occur.
However, deadly accidents can be prevented with basic tractor safety, such as the installation of a rollover protection system (ROPS). The systems attained popularity between the '70s and '80s, and experts say that the system, when paired with a seatbelt, has a nearly 100% rate of effectiveness. On the other end of the spectrum, the likelihood of living through an accident without the protection of ROPS plummets to 20%.
The largest number of rollover accidents occur in farmers over the age of 55, who are often using outdated equipment. Farm safety instructors try to combat this trend by informing children at their schools. Amy Rademaker, a farm safety specialist working for the Carle Center for Rural Health and Farm Safety said, "We often think that kids and younger folks are a way to their parents."
In teaching a fourth-grade class of more than 200 students, Rademaker found a large discrepancy in children who wear seatbelts in a car and those who wear seatbelts in a tractor. It's a common belief that a tractor accident would be less dangerous, due to their slow speeds, but a critical point between a rollover accident and safety can happen before anyone would be able to react. Rademaker would like to see wearing a seatbelt in a tractor become as critical as wearing one in a car.
David Newcomb, a farm worker himself and the manager of the Illinois fire Institute's Ag Rescue Program, teaches firefighters how to respond to farming injuries. He says that there are several reasons a farmer may get into a deadly accident, even with ROPS installed, one of those reasons being that the system can be folded to fit into small spaces and just never get unfolded. He urges farmers to take care of themselves this season.
The team at Spiros Law know all too well the dangers of farm equipment and the serious accidents that can occur when a tractor is involved in an accident. If you or a loved on has been hurt in a tractor accident, we know that speaking to a lawyer may be the last thing on your mind, but keep in mind we are here to help relieve you of the burdens that you may be facing. Contact a compassionate, experienced attorney at Spiros Law to let us fight for the compensation you deserve if you were hurt in an accident.