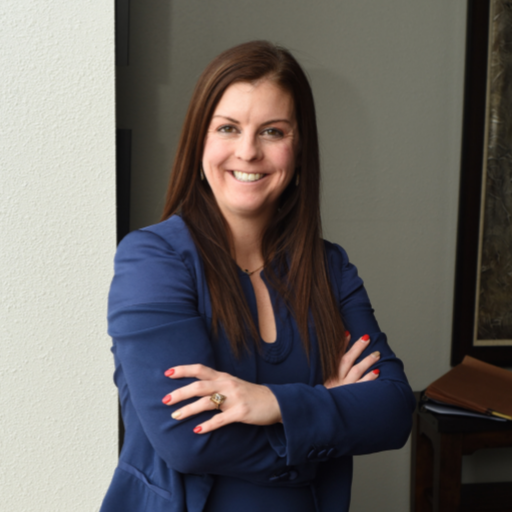 Compassionate. Fierce. Leader.
Miranda L. Soucie is a leading Trial Attorney who fiercely advocates on behalf of her clients who have suffered serious personal injuries. Her cases range from medical malpractice, automobile and trucking crashes, defective drugs and devices, birth injuries, nursing home abuse and neglect, and workplace injuries. She is licensed to practice in Illinois, Florida, and the Central and Northern District of Illinois Federal Courts.
As a Trial Attorney, Miranda is passionate about helping her clients navigate the legal system. Having been through the process of a personal family tragedy herself, she recognizes that the law is an imperfect remedy for personal tragedies and attempts to account for the very real personal aspects of her client's experience while providing fierce legal advocacy.
Miranda's passion and fierce trial advocacy have led to an ever-growing list of substantial victories within the courtroom and millions of dollars in verdicts and settlements. As a result, Miranda has been recognized by her peers throughout the Country. In 2019, she was recognized as the Illinois State Bar Association's Young Lawyer of the Year. In 2020, she received the 7th Amendment Award from the American Association for Justice's (AAJ) New Lawyers Division, recognizing her superior advocacy to the 7th Amendment Right to Trial by Jury. She was recognized in 2015 by the Chicago Daily Law Bulletin and the Central Illinois Business Magazines' forty under 40 lists, for her professional achievements, leadership, innovation, experience, and community involvement. She has been repeatedly recognized as a leading lawyer and Super Lawyers. In 2022, Miranda was selected for membership into The National Trial Lawyers – Top 100 for being part of a premier group of Civil Plaintiff attorneys in Illinois.
In addition to her fierce advocacy as a Trial Attorney, Miranda is a leader among her peers. She is an active member of AAJ, where she serves on the Women Trial Lawyers Caucus Executive Committee as a Board of Governor's Representative, and as a member of the Membership Oversight Committee and Voter Protection Action Committee (VPAC). She is a 2020 graduate of AAJ's Leadership Academy. Miranda currently serves on the executive board of the East Central Illinois Women Attorneys Association (ECIWAA), where she is the Past President. She also serves the Champaign County Bar Association (CCBA) on its Board of Directors and organizes the annual battle of the bars softball tournament. In addition to her service with AAJ, ECIWAA, and the CCBA, Miranda is a member of the Illinois State Bar Association (ISBA) and the Illinois Trial Lawyers Association (ITLA).
Driven by a ceaseless desire for professional and creative growth, Miranda has been published by the AAJ Trial Magazine, ITLA Trial Journal, and various other publications. She regularly speaks throughout the country on behalf of AAJ and ITLA and is a faculty member of AAJ's Trial Advocacy College – Deposition College. She is regularly asked to speak on the use of technology to enhance advocacy on behalf of clients, as well as Trial Advocacy.
Miranda is a Magna Cum Laude graduate of the University of Illinois College of Law. During law school, Miranda received accolades for her performance in the area of Advanced Legal Research, receiving the highest grade in her class for her legal research project. She was one of ten members chosen to the Law School's traveling Trial Advocacy Team. She was a recipient of the Pro Bono Notation for volunteering numerous hours of legal services to those in need, including service to Champaign County Court Appointed Special Advocates and Louisiana's Resurrection After Exoneration. She earned her B.A. with High Honors from the University of Wisconsin – Milwaukee.


Miranda volunteers internationally with Meet Malawi, traveling to Malawi, Africa to volunteer her time helping local women engage their community and improve living conditions through water and educational programming. She volunteers with the Copper Creek Presbyterian Church on its human resources committee, and as a mentor for youth. She is also actively involved with the Eastern Illinois Food Bank where she helps with food repacks and is a leader in its fundraising effort including a capital campaign in 2021, and as the 2018 Prom Court Queen for raising over $11,500.00 to help combat food insecurities in Central Illinois.
Miranda enjoys gardening, cooking, working out, traveling with her husband, Chris, and hanging out with their two dogs, Hops and Rye, and cat, Peggy Sue.