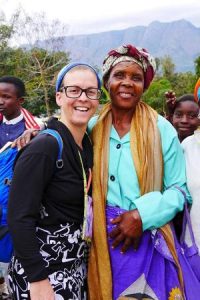 Spiros Law's own Miranda Soucie was featured in a news story on the News-Gazette's features section titled "Clergy Corner".  The article discussed the efforts of Miranda and other clergy members of Champaign's Copper Creek Church in their yearly mission trip to the Republic of Malawi.
A dozen members of the church, including Miranda, spent a part of their summer in Malawi with the Lisanjala CCAP Church, building a new house of worship. In addition, the team helped fund clean water wells and gave twenty-five scholarships to students in the area.
The article quotes Miranda on her experience in Malawi: "We were learning what it truly means to be a stranger and to love a stranger. As I have grown older, I have increasingly seen our definition of stranger be defined by a fear of the unknown. My observation in Malawi, is that a stranger is something to be celebrated. Someone to be welcomed. Someone to be loved."
The entire team at Spiros Law is proud of the efforts that Attorney Soucie has made on behalf of her community and outside of the Champaign community. To read the entire article, visit the News-Gazette site here.